The sales funnel is a process of finding, qualifying and selling the products to the buyers. There are multiple steps involved in this process. And to sell the product or Service to the client, entrepreneurs or companies have to go through below phases;
Create Awareness of Product or Service.
Create interest of the customer to buy the product or service.
Help customer to Examine the competitive benefit.
Customers makes the final decision to buy.
Customer Buys the product.
Renewal of Subscription if it is of that kind.
RePurchase the product or Service
Typically companies are going through all the phases. In a traditional method these all phases take time to sell the product to the customer. But when selling online, you don't need to go through all these phases there are simple methods to sell the products online.
Selling Products and Services Online
Today their are various methods to sell the products or services online. Millions of platforms and tools are available online, finding the right platform or technology always remain a challenge.
Due to lack of awareness, in most of the cases, entrepreneurs fail to sell the products online. Because they first start chosing social media platform, they don't get response in terms of conversion. Then they move to marketplaces, which are already crowded. Once they don't succeed they start building their own ecommerce website, which takes time to design, develop maintain, but they don't see the conversion.
In businesses, customer is the major partner of your business. When you start selling your products or services on marketplace, you may not get full access to your customer data. Which will not help you to creating good bonding with your customer. Moreover, due to competition, it becomes impossible for a new seller to start getting the response.
On the other hand, generating the lead through product awareness is always required. You can have nice product or service, but choosing a right method (Sales Funnel) is mandatory. Which means creating the product awareness first. Before starting selling the product. That is where Online Sales Funnel Platforms are used.
Online Sales Funnel Platform
Though you can have an eCommerce Website , if you have resources (capital and team). But why to divert your attention or lose the focus. Sales Funnel platforms have recently become very popular, where you can quickly and easily create beautiful sales pages that create awareness of your products, convert visitors into leads, and Finally your product is sold.
You don't need any technical knowledge to create these sales pages. There are prebuilt pages where you can start selling the product or services.
You focus on your core (Your product and Service) and use Sales Funnel Tool to built your online business in few clicks.
InterFunnels World's Leading Sales Funnel Platform
I have used various Sales Funnel Platforms, but found InterFunnels the best. This platform is an evolutionary platform which focuses on generating 4 times more Leads and Sales than a Website. You can quickly build and launch the page within minutes. You retain your customer data and can followup for qualifying leads through the portal.

Key features of InterFunnels Sales Funnel Platform
Online Sales Funnel builder had always been a challenge. But thanks to InterFunnels, where Thousands of businesses and entrepreneurs have already joined InterFunnels, because it automates the entire sales process. You can sell products to new customers and while maintain relationship with other customer by upselling and cross sellling. Some of the key Features include;
Quickly and Easily create landing pages and drive traffic to the top of your funnel.
Automate your follow-up marketing by capturing leads into your favorite Autoresponder service like Mailchimp or ACTIVE Campaign
Coach and Train your members by building membership sites & training portals and deliver online courses with secure login
Get Payment using your favorite payment gateways including PayPal.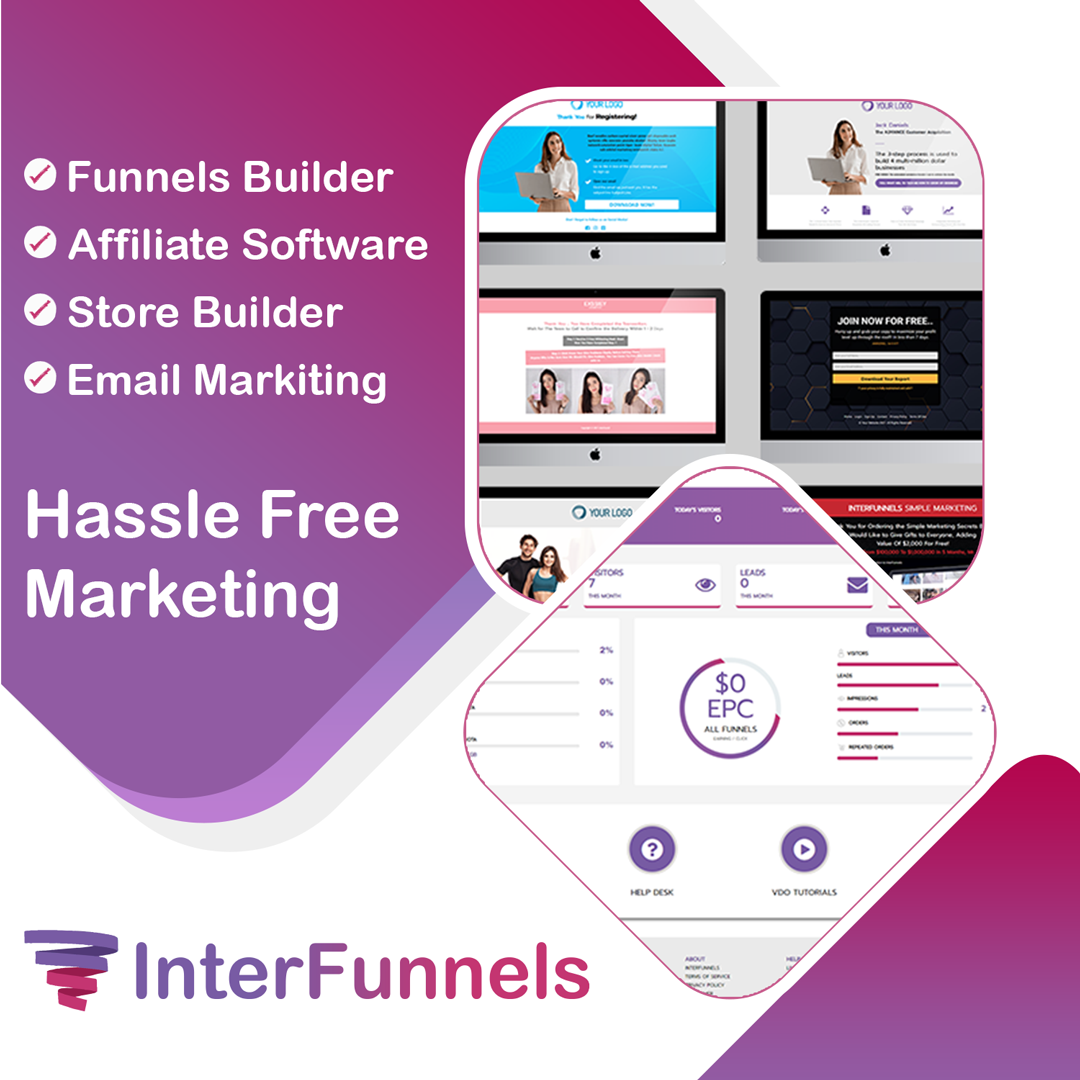 Make your first Sales Funnel Online using InterFunnels
Your don't need to be an expert to start building your Sales Funnel. It is simple drag and drop Sales Funnel Platform. The following are the main benefits of InterFunnels
No need to learn programming, design and coding to build sales funnel online.
Nothing to download.
Chose pre-built designs and launch your page sin few clicks.
High Conversion to Sales
Library of Marketing Designs
Accept Payment Online
Auto Responder
Video and Media Hosting
Pixel Management (Facebook, Google AdWords, Google Analytics)
Custom Domain
Online Training
There are many more features;